Doctor Who
Series 35, Episode 4
Before the Flood.
This episode was actually a bit of a let down, if I'm being totally honest. It wasn't terrible, in fact it was a perfectly solid episode with a few nice moments, but as a conclusion to the fun, horror-y story set up in the last episode, I found it wanting, and a large part of that is that it didn't feel like a conclusion to the previous episode: It felt like a couple of entirely new plots tacked shambolically onto the end of the previous episode.
Also, can we stop having the Doctor play the electric guitar, yes, we know that Peter Capaldi used to be in a rock band with Craig Ferguson, we know, but if we gave everybody who was in a rock band in their teens a guitar and wrote its usage clumsily into every episode of whichever series they were a part of, and rewrote the theme song to accommodate that, we would be drowning in a deluge of musical stylings.
Picking up where the previous episode left off, the Doctor arrives in the past, before the town was flooded, where he finds that the spaceship found by the expedition is, in fact, a hearse, carrying the body of an alien warlord, the Fisher King. The Fisher King is not quite dead however, and before long he has cast off his wrappings, carved his coordinates into the wall of the ship, and gone on a murder spree, creating the ghosts that continue to haunt Clara and company in the future.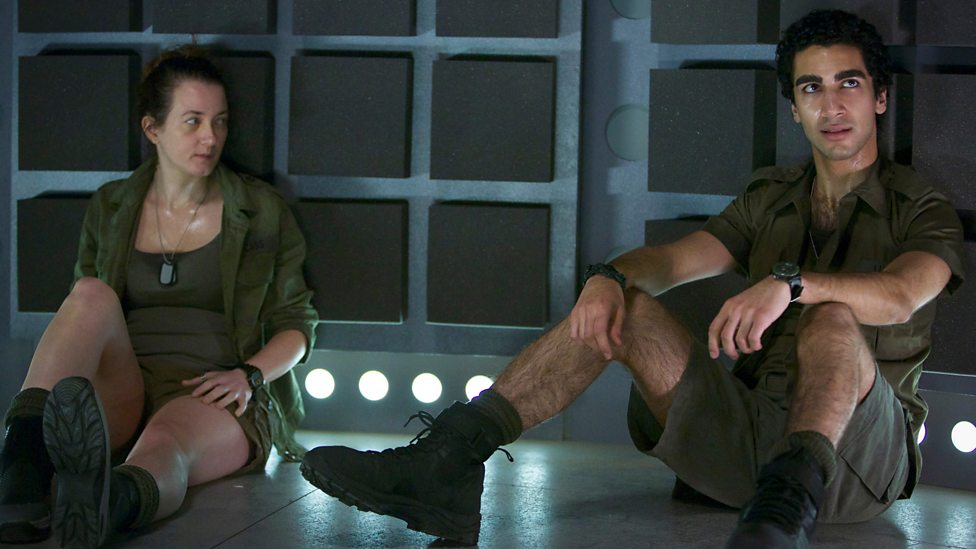 Why is everyone wearing shorts? That can't be practical.
Can I just start by saying how monumentally disappointing an explanation that was for the ghosts. Guys, you spent an entire episode building up the mystery of the coordinates, and the mystery behind the ghosts, and what secret was the flooded town hiding - and in the end, it turns out to be an actually quite clumsy and uninspired invasion plot by a villain who was not foreshadowed at all in the first episode. That's really, really boring. That feels phoned in, like Toby Whithouse couldn't quite be bothered to explain his own mystery. If you're going to spend an entire episode telling me that these ghosts are impossible and amazing and sinister, don't have the explanation for it be 'a guy in a rubber suit did it with poorly explained science'.
The solution to the ghost problem is no better, as it is essentially pure handwaving - and bizarre handwaving at that. The Doctor's great plan is to send a holographic ghost of himself, which then lures the other ghosts into a Faraday cage, thus rendering them safe. Which is great, except they're already in a Faraday cage when the episode starts: The Doctor's hologram is the one that sets them free in the first place. He literally created a problem which he then solved.
But of course, it's not any of these things that the episode is interested in. What it's interested in is the Bootstrap Paradox, which I will grant is interesting, but isn't quite interesting another to structure an entire episode around to the exclusion of all else. This is compounded by the fact that the entirety of the cold open is a bizarre, fourth-wall breaking monologue where the Doctor explains the paradox - and thus the plot of the upcoming episode - to the audience, despite the fact that it isn't that complicated an idea and did not need to be spelled out.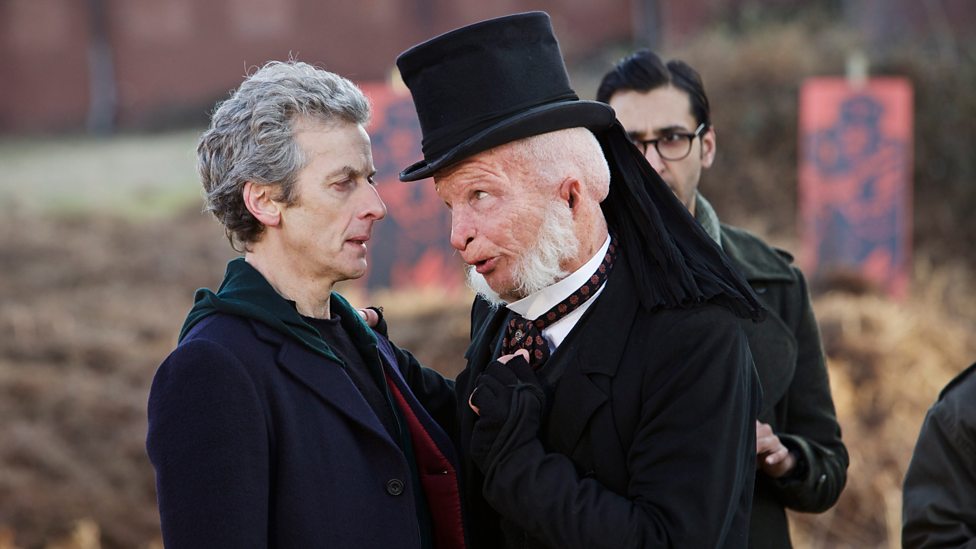 This character made me deeply uncomfortable for about four different reasons.
If the Bootstrap Paradox had been an idea worked into both episodes in this two-parter, this might not be so weird, but it's not: It's only introduced in the second part, like so many other things in this two-parter, and that's lazy writing. Were you not aware that this would be two episodes when you started writing them, Whithouse?
(Also really weird is how all of the supporting cast ended up paired off into male-female couples, because god forbid we have men and women occupying the same space and having no romantic interest in each other.)
But in spite of all that, I did enjoy this episode. It was engaging enough to be distracting, the performances were strong all around, the pre-flood deserted village was sufficiently sinister, and for all that his entire existence came out of the left field, the Fisher King was actually not a terrible villain - physically intimidating, very alien to look at, and with some excellent voice work giving him a delightful low rumble of a voice.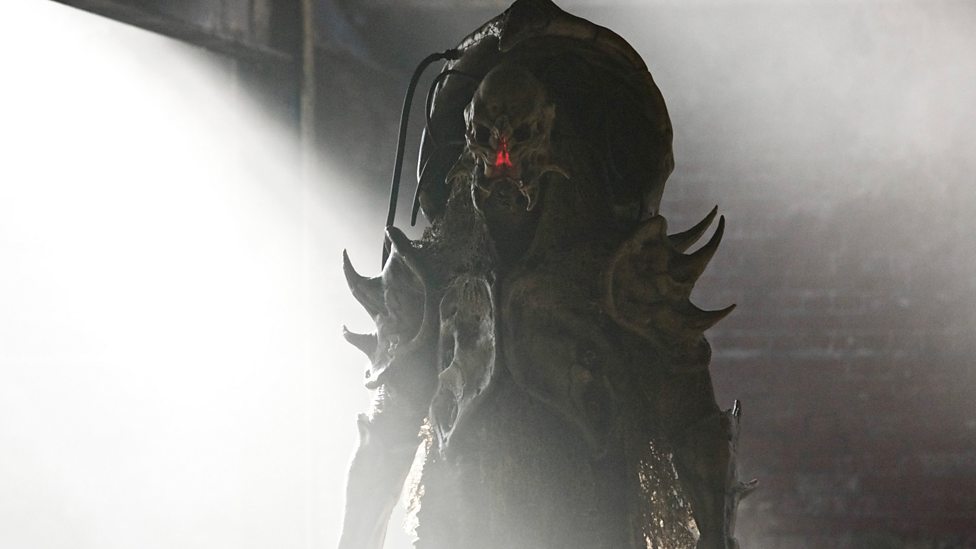 I admit, the design is a bit tryhard.
In the end, though, this episode is still a let down, and if I'm being brutally honest, easily the weakest episode of this series. I can't believe I actually have cause to say that when fifty percent of the episodes so far have been penned by Steven Moffat, who is not a very strong writer at all, but there you have it. I rate this episode bizarre un-foreshadowed alien warlord out of much more interesting ghosts.
Next week, we have Maisie Williams showing up, and a story about Vikings fighting Alien Vikings. That could be amazing or absolutely terrible, to be honest, and as yet I have no idea which one it will be.